IT'S KICK OFF TIME!
Langtree School Celebrates the opening of the Multi Use Games Area!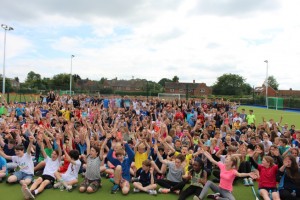 The Langtree School Community gathered together on Friday 26th June to celebrate the formal opening of the Multi Use Games Area on the school site. The astro turf pitch has been installed by McArdle at a cost of £227,000, and will provide a professional quality training surface for students and membersd of the wider community alike.
Staffs, students, governors and sponsors gathered pitch side to welcome our guest of honour, Team GB Hockey star Helen Richardson-Walsh, who attended to formally open the facility and to speak to the students. Following the formalities, Helen took the very first penalty against our school team Goalkeeper, who managed to save one shot from the GB international!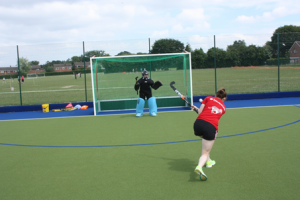 The project would not have been possible without the generous support of our business sponsors, who have made a commitment to support the ongoing maintenance for the pitch. Our business sponsors are: McArdle sport Tec, Xicards.com, Winkworth, Peppard Building Supplies, Halarose, Get Furnished, Woody Nook at Woodcote, Invesco Perpetual;, Studio One, Action Coach, Warmingham Estate Agents and Golf HR.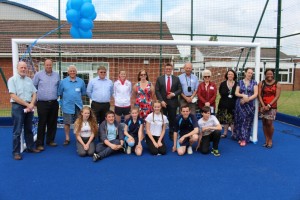 The formal opening was followed by an afternoon of sport for all, and students had their first taste of playing hockey and football on the new surface. The day certainly marked an exciting development for all members of the Langtree School Community and was hugely enjoyed by all!