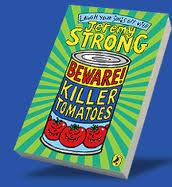 Hey everyone!! I have only just read the first three chapters of the brilliant Jeremy Strong book, Beware! Killing Tomatoes. I have had this book for a very long time but have never had chance to read it because I have read many other books. But I should have read it earlier.
Another brilliant thing about this book is that it has a REALLY eye-catching front cover, which you can tell by the picture above. I think that the colours go really well together. Another good thing about Jeremy Strong's book is that it is never plain and boring it is always VERY hilarious!!
So if I was you I would get yourself down to your local shop and get yourself a copy of this fantastic book.
Thank you for reading my blog
By Elliot Fox   
A Langtree School Book Blogger