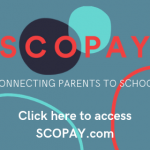 Please click on the logo to take you to the online payment portal
First Time Users
If you have not created an online account that allows you to pay for one off items such as revision guides or school trips with your credit or debit card through a secure website, you can do so by following the instructions below.
Creating an Account
You should have received a letter from the school detailing your pupil link code and explaining how to set up an online account.
If you no longer have this letter please contact the finance office at school who can tell you what the pupil link code is for your child. The office can be contacted directly on 01491 683392 or call the school main number 01491 680514 and ask for extension 207.
Account Set Up
• Please click on the logo to take you to the online payment portal
• Click on Create New Account
• Enter a user name and password. The user name must be a valid email address
• Enter the Pupil Link Code that has been supplied by the school. You may have more than one depending on the number of siblings you have. Only enter one and the others can be entered within the website
• Enter your billing address details (these need to match the address on the credit/debit card that will be used for making online payments)
• Click on Confirm.
For further information click on the guide below:
Guide for Parents Please note that not all of the options listed are used at Langtree.
Please email [email protected] with any further questions.